Andia Fora is a footwear brand Made in Italy born in 2015 in Tuscany, specialized in the creation of sneakers made by skilled craftsmen by using fine leathers.

Innovation tradition and artisan values merge in the Andia Fora concept: footwear for men and women with an urban concept born from a "Flirt" between innovative technological solutions and creative inspirations linked to current trends.

Andia Fora shoes are made with high quality leather strictly produced in Italy and hi-tech materials, through the continuous research of innovations.

Andia Fora after master research and studies patented the "injection" sole in 2015, overcoming the traditional practice of the mold.

Every collection is the results of continuous study, each idea and project is created with perfected and modified machinery specifically on the basis of the model to be "built" by the Andia Fora team for the specialized creation of sneakers.

Given to the preparation and skill of its creative technicians, the shoe factory where Andia Fora shoes are produced is known as the Academy of Sneakers.
AndiaFora Black Leather Zip Boots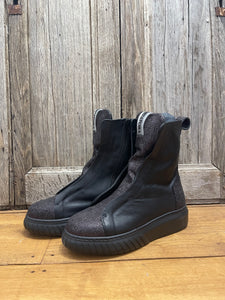 AndiaFora Black Blue Suede Boots