Collection:

Poesie Veneziane
GABRIELE CONTE is the heart of the brand. He holds 40-years of experience in the footwear industry. Before creating Poesie Veneziane, he collaborated in designing and developing the collections of a myriad of Italian manufacturers and international brands for whom he has been also sales representative at his own historical showroom.
Today, his showroom still runs and is based inside the Poesie Veneziane's Studio and Showroom located in the heart of the Italian most famous shoes-district that is the one of the Brenta Riviera, where the heritage is all about shoe-making. 

A life dedicated to shoes, in a continuous journey through the whole "Boot" (Italy), between producers and boutique customers in addition to a permanent presence during Milan Fashion Week and Pitti. Since 2012, his mission is to bring all his skills together at Poesie Veneziane, to finally reach his dream as entrepreneur and designer.
Poesie Veneziane Brown Leather Chelsea Boot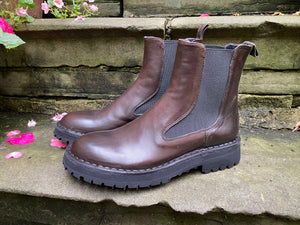 Poesie Veneziane Oxblood Leather Loafers