Collection:

Bŵts a Shŵs by Anna
Anna makes great Shŵs from soft leather for the comfort of happy feet and toes that are free to wiggle.
These shoes are made in Cardiff using locally sourced materials, ethical and eco where possible, and are delivered by Anna on her bike to Dot.
About Anna: Cardiff born but widely travelled through work as an Evolutionary Biologist (formerly known as Dr Frog!).  Anna's primary focus nowadays is on living a balanced, healthy & happy life as mother, teacher & shoe maker back in the 'Diff.
HandmadeDark Green Leather Boots Size 4 by 'Shŵs & Bŵts by Anna'
Handmade Red Leather Shoes Size 5 by 'Shŵs & Bŵts by Anna'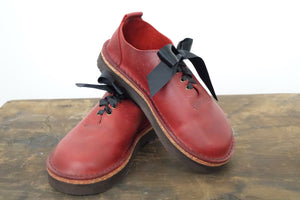 Handmade Citrus Green Leather Shoes by 'Shŵs & Bŵts by Anna' UK5